Husband: So what did you cook for dinner?
Wife: Nothing!
Husband: Great... that's why I love you so much!
And they ate Royally ever after!
There was a time when I used to often invite friends over and treat them with delicious home cooked delicacies. Samosas, Delhi waali Aloo Chaat, Paneer Makhanwaala, Amritsari Choley Bhature, Halwa... I had all the energy and since I was single then, mom and I cooked together. So that meant faster and lots of delicious food that was loved by all my friends. Accompanied with golden oldies and nostalgic chatter, every get-together at my home used to be blissful. Something that we still discuss when we meet now!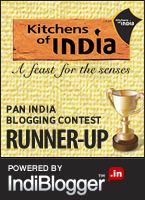 This post won the Runner-Up Prize
Now that I am married and it's just me and my husband staying together, one would assume that we have house parties every other weekend. How we loved to invite friends over when parents were not around! However, those who know me well, know why the get-togethers at my place have reduced drastically. Thank God all my friends understand that now I have very limited ability to be the perfect host I used to be. Cutting veggies, kneading dough, preparing exotic time-consuming recipes for four or more people and then serving endlessly is a distant dream with
fibromyalgia
. I don't remember the last time I cooked a full-course meal for guests at home!
Did I consider
ready-to-eat meals
? Oh yes! But there were several factors involved in not opting for ready-to-eat meals:
I discovered that they can be loaded with preservatives.
There is this weird tangy ginger-garlicky taste in most of the meals that I picked up from supermarkets.
What would people think if I invited them for dinner only to serve food straight out of fridge to pan to plates!
So I must confess that I did try a couple of
Kitchens of India
dishes earlier when I had no time to cook and they were the best among the rest, but haven't still brought ready-to-eat packs when I have guests at home.
And now that I am writing for this
contest
hosted by
IndiBlogger
and Kitchens of India, I thought of thoroughly going through their website first to be strictly unbiased. And I am glad I did, as now I am considering a
gourmet party with friends
using Kitchens of India products. After all, they take care of all my concerns:
Kitchens of India products do not have preservatives. So you may ask how the products stay fresh then. Well, they use a blend of natural and scientific techniques, the right amount of edible oils and iodized salt to ensure that what we eat is Safe and Superb. You can read the details about the technology and process here.
I don't find any weird tangy ginger-garlicky taste in their products. In fact, they taste the way chefs make it in leading hotels and restaurants!
I would happily use these delicacies when have guests at home. And after they enjoy the food and I talk about the no-preservatives and modern technology, they would be speechless (or rather doubtless) and all praises!
DID YOU KNOW?
The Kitchens of India recipes have been crafted by the Masterchefs of ITC Hotels!
So yes, I am thinking about hosting a fun-filled and non-exerting weekend gourmet party with friends. And the theme would be
ROYAL GOURMET PARTY
.
Royal Location:
Our house
where we can sit in the balcony watching the sunset and after a long night's party wake up to chirping birds and views of river and hills!
Royal Ambience and Style:
So I will place some silk cushions on the sofa with the
haathi-ghoda
prints. The chandelier is already in place, so we would light up the room in golden instead of the tubelights / CFLs this once. And we would all wear traditional Indian attire - the kind of stuff we wear in weddings (silky salwaar kameez / sarees; men can wear kurta-pyjamas).
Royal Entertainment:
Thankfully all of our friends have similar music tastes. So some ghazals, golden oldies and instrumental music would be played in the background. We can play some games like cards, it's always fun!
Royal Gourmet:
Now that I am all set for
Ready-to-Tr'eat' meals
from Kitchens of India, I will choose the following based on the fact that we all are absolute foodies and some of us are vegetarians too:
Chicken Darbari
Murgh Methi
Mughlai Paneer
Mirch Ka Salan
Tamarind and Date Chutney
Apple and Cinnamon Conserve
Jodhpuri Moong Dal Halwa
Some fresh Chapatis and Jeera Rice and I am certain the party would be hit with the sumptuous cuisine!
Royal Surprise:
Oh yes, initially I will not tell people that I have used Ready-to-Eat dishes from Kitchens of India. I will start a guessing game where people will have to guess all the ingredients of a dish (which they would initially think that I cooked). Only after a good amount of masti and leg-pulling will I disclose the secret of my kitchen.
Or should I just keep it as a Royal Secret?
Now if only someone created something like Ready-to-Reuse crockery and I can save on the post-dinner cleaning time as well!